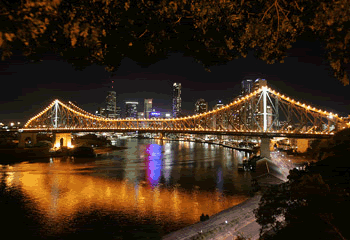 We went round to a friend's place in Holland Park for earth hour. They had bought candles to light the place up for the big lights-out at eight pm, and apparently didn't see any irony in sitting in their spa-pool on the balcony (which they said had pushed their last electricity bill to $700) to watch Brisbane's lights go out. It seemed churlish, as guests, to point out that there might be a contradiction there, so we relaxed with a glass of bubbly and enjoyed the evening instead. Why's the planet going to hell in a handbasket again? Oh, yeah...
Next morning, we had breakfast together in a Gabba cafe and headed into the CBD for yet more provisioning, before meeting up with Oscar and Aida, who wanted to see K again before we headed South.
My last week at work flew by, and we met up with my colleagues in town on Tuesday - because they wanted to say hi/bye to K as well. We also ended up trying to pick up the Tasmanian meatsafe twice more before it was finally ready, and even now there are bits of the original paint sticking stubbornly to the metal mesh. Getting the thing to a presentable state is becoming a labour of love.
After putting it off for a couple of years, I finally bought a walkman last week. I'm much happier with music in the background when going about everyday tasks, and should remember to never leave myself stranded without it, even for an hour or so - it can make the difference between a dark mood and a light mood, especially when alone.
The final packing and drive South was something of an adventure - tessellating all our possessions from our West End room into the car took me 4 hours, and unpacking everything at the far end took almost as long - so the packing and unpacking altogether took three times as long as the drive from West End to Nimbin. Foolishly, we decided to get a meal out in West End rather than trying to cook before heading out - our food took 90 minutes to arrive, and we ended up not hitting the road till after 9 Brisbane time, and getting home at 01:15 NSW time. Feeding the baby at 5am was even less fun than usual on Friday morning.
On Saturday we headed over to Nimbin sports ground for the first time ever. I'm not a great follower of any of the football codes they play in these parts, so I'd never thought to go along. On this occasion, it was because C had won a design competition for the Headers ( the local football-with -a-round-ball team) and three of her designs will soon figure on various bits of Headers merchandise. Once T-shirts are on sale, pictures will follow.
On Sunday we did the Lismore car boot sale - it's an unlikely venue for a great market, but I like markets and I'd venture that Lismore car boot sometimes verges on being a great market: It has live chickens, rednecks selling Eureka flags, a good selection of unhealthy fried food, and in excess of 50 stalls that sell absolutely nothing I could ever imagine being of any use to anyone, ever.
The first two days of the week back in Nimbin should have been all about getting ahead in my new job. Instead, both days were taken up almost entirely by felling trees. I'd negotiated a price on the understanding that I'd pitch in as a second groundsman while the chainsaw guy cut the trees down and the chipper bloke reduced the branches to wood chip. I'd expected the whole thing to be full-on, but I was surprised by how much bloody fun it was. I was also amazed at the speed and professionalism of the guys with the chainsaws - if you live in Northern rivers and need trees removing or shaping, I highly recommend the Treeshape guys. Not only did they take down four huge polonia trees and a large cocos palm, and reduce the whole lot (bar the trunks) to wood chip in less than a day and half, they also reshaped a fifth 30 metre tall Polonia to reduce the shade it cast and make it safer in high wind.
That's all done with now though, and I'm currently dealing with the more mundane issue of finding enough space around and about the place to dry out about a metric tonne of polonia heartwood - as I'm reliably informed it will only be good to use as firewood after next southern winter, in 2009.