Wherever we go, we always seem to find the aquarium. Osaka's aquarium was only two blocks from us, and we needed an easy day, so we thought we'd go early to beat the rush.
It seems, the rush is earlier in Japan than in Australia. We were through the gate and gawking at stingrays by 9.00am Sunday, but already the place was so crowded, that we had to fight our way to the glass to see anything. The rays, sharks, and jellyfish were impressive. More impressive however, was the stoic determination of the young salary men and their kids and wives, queuing for upwards of 2 hours in 35° sunshine to see them. Once we discovered the studio Ghibli shop, we happily killed the rest of the day choosing Ghibli memorabilia and consuming iced coffee.
Next morning, we checked out of the pleasant Ryokan, with many good wishes from the friendly couple who run the place, and boarded the bullet train for Tokyo. We made it to Shibuya without any problems, and Ian met us off the train and we got the subway to his place in Setagaya.

It was still light, and Ian's wife Eriko is, like C, still at work at five months pregnant. Ian took us to a viewing gallery near the top of a skyscraper in the district where Eriko works, and we met up with her when she knocked off, and watched the Tokyo lights come out before getting dinner at a restaurant round the corner from Ian's in Setagaya.
On Saturday morning, I left C sleeping, and went with Ian to meet Marcus and Basia who were catching the red eye from Bangkok. They're on a particularly adventurous honeymoon, covering South and East Asia. Poor Basia had been a very ill with e.Coli in Thailand, and considering she had only had four days to recover, and then had an overnight flight to Japan, she was looking pretty well. Marcus was very confused when we met him, but seemed to be having a great time.
Ian had arranged for us to meet some friends of his at a fireworks display on Saturday evening. It turned out to be very impressive, lasting over an hour with over 12,000 fireworks released.
Bizarrely, all the spectators sat in one enormous park, and there was a fireworks display at each end. I was impressed by the shaped fireworks - there were bursts shaped to look like numbers, rubber ducks, flowers, and five pointed stars.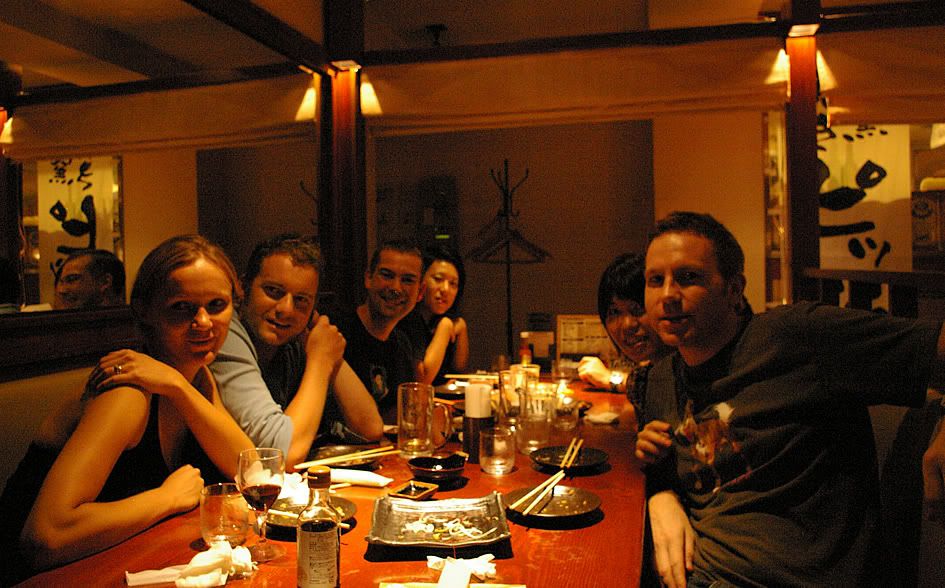 Ian had booked a table for all of us at a nearby restaurant just after the show - I've no clue how he pulled that off, given the tens of thousands of people crammed into the park.
Next day, we checked out Harajuku and Akihabara, and gawked at the rori-goths and cosplay maids. Once we were shopped out, we headed back to Setagaya for some cold beers, and a great Japanese dinner cooked by Eriko - I was both intrigued and impressed by the udon noodles served with ice cubes; perfectly refreshing in the 35° heat! Ian was back to work on Monday morning, and we would have to catch the bullet train back to Osaka, so After a final rummage through the local bookshop for some Japanese design mags and books, we turned in.
it was an amazing three days - both surreal and enjoyable to be wandering around in a group of four UCL bods in Tokyo, 2007. With Marcus and Basia tying the knot, I am the last person from our shared house to remain unmarried, but I am on track to be the first to be a dad. C and Eriko both being pregnant was also slightly surreal - none of my close friends since school except for Alex have kids yet.
Marcus and Basia woke up in time to see us off on Monday morning, and we stopped off for coffee with Ian at Tokyo train station. As a financial journalist, Ian is going through a busy period right now, as markets around the world get the jitters from the knock on effects of U.S. subprime of mortgage lending. Nonetheless, he makes time to show us the English language bookshop before rushing back to his desk, and I pick out Murakami's dance dance dance as my homeward bound shinkansen and aeroplane reading.

We spend our final day in Japan strolling up Midosuji dori in Osaka, sheltering from the heat in snazzy air conditioned cafes, Shinto temples, out of our league shopping arcades, and in one particular desperate instance, the hard rock cafe Osaka, where we sat beneath one of Ozzy Osbourne's less favourite guitars, and joined in the applause following a cute 6-year-old's happy birthday chant.
C has enjoyed herself in Nippon, but the heat and humidity were pushing the endurance limits for her 5-months pregnant state, especially coming from Southern midwinter, and I know she's looking forward to being back in Nimbin full-time next month!