I'm settling into a rhythm now.
It's not really a country rhythm as such, given the silly commuting and the intrusive day job, but it's better than the constant inconstancy I've had since 2002, when we were hustled out of East London by stereotypical hoodies - since then (and don't get me wrong, it's been five years of great adventure) the longest we've lived at one address is twelve months, and the average is more like four - so even the concept of having a real base to return to at the end of each week is a luxury that won't sink in for at least 12-24 months.
The place felt a lot more like home when I got in on Friday - we finally have a couple of couches and a seat in the lounge, after our second months-long stint without furniture! W00t.
The reality of living in a wooden house in a rain forest is a lot like living on a wooden boat: There's a constant low level battle to hold the line between wet and dry, and the occasional crisis. The silver lining to this particular cloud, is the fact of having most basic woodworking tools to hand, and a ready supply of timber. Having improvised a basic bookshelf, our next project was a blackboard for all those little jobs and reminders that usually slip the mind. I'm sure my third form woodwork teacher would regard his life's work wasted if he saw it, but I felt pretty happy after one hour of sawing, gluing, and hammering a frame onto the backboard that C had painted with blackboard paint - it's rude, and it's crude, but we made it with our own four hands.
Just in case anyone is in any doubt about our encroaching young fogey status, we were very keen to visit some of the gardens opened to the public for the biennial "Nimbin Open Garden" event. We weren't actually keen enough to drive to any of the gardens, but luckily our neighbours just up the hill were taking part, and we spent an envious hour wandering through their amazing acres of native and exotic plants, and busily committing more than a few cunning tricks to memory - I was particularly impressed with their quick and easy improvised insect screens made from recycled screen-doors (which can be picked up for $5 round here).
Having shelled out a few bucks for grevillias of various colours (they looked so good in the garden up the hill...) I needed to make a spot with enough sun for them - which in practice involved shinning up several trees and hacking off bloody big branches, and then dragging them into a pile in the corner of the garden.
I woke earlier than normal on Sunday morning - some of the branches I removed must have been keeping the bright morning sun away from my window. Unsurprisingly, every single one of my puny desk-jockey muscles hurt or ached. On sunny days the weather is perfect now - warm and sunny, but not too hot except for an hour or so in the middle of the day, and with some rain overnight keeping everything lush. The locals agree that the next three months is the best season.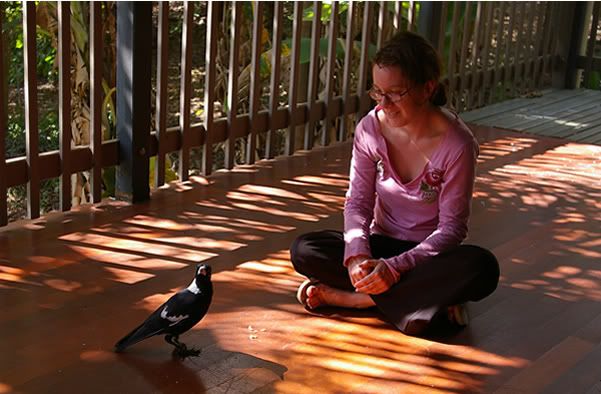 We have adopted an injured magpie (gymnorhina tibicen tibicen) whom we call cripple boy. He had just broken a leg when he first came to our deck to beg food, and at first we hoped to catch him and get him to a vet - but he was too timid. Ironically, now that he's basically got a stump left, he's eating pine nuts out of our hands, and will sit quite calmly 6 or 12 foot away watching us eat, not making a fuss, waiting his turn. I don't really like magpies (not least because it's fairly obvious they bully other birds such as parrots out of your garden) but cripple boy has real character, and we're going to look after him. Besides, it's fun lumping pasta shells at his mates when they come begging for food - I caught one right between the eyes on Monday; he looked like one of the england middle order facing the South African medium pacers, and hasn't been within 30 foot of our deck since.